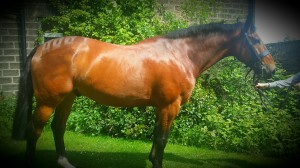 WHEN Liz Eadon purchased Jack Daniels X from Ireland in February 2014, he looked like a "stick insect." Liz tried tirelessly to build him up and whilst he did well last season in Novice Working Hunter classes, he still really lacked condition. The now seven-year-old was weak behind and really lacked topline.
Said Liz: "I had tried everything and then saw an offer for Equerry Condition Cooler Mash at Argo Feeds and thought I would give it a go."
The results speak for themselves and Jack Daniels has since strengthened hugely, his behind is double the size and he has also really improved in his shoulder and neck.
Added Liz: "Whilst gaining remarkable condition, he remained calm and his temperament was unaltered by his new diet of Equerry Condition Cooler Mash. With showing, the horse must remain calm. He has always had a great temperament and this hasn't changed since being on Equerry, which is great."
I have been absolutely amazed in how fast the results are. In six weeks, I have never seen a transformation like it. Besides my own horse, Equerry Condition Cooler Mash has given great results to a couple of my livery clients' horses, which were really weak and are now blossoming. This feed is exceptional."
This season, he has been well placed at the two shows he has attended. He was third at White Rose County and sixth at Nottinghamshire County Show out of 40 competitors with a clear round in the Novice Working Hunter. He will continue to be campaigned as a novice before being stepped up to the open ranks later in the season.