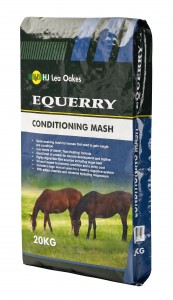 Is your horse or pony a bit light on condition after the colder months or are you looking for that extra finish and glossy coat in the run up to the outdoor season?
Throughout February and March there is £2 off Equerry Conditioning Mash at participating retailers and whilst promotional stocks last.
Says Audrey Muirhead who's horse Skye won the Equerry Horse of the Year Award:  "I was so pleased that Skye won Equerry Horse of the Year.  She lives out and I find the Equerry Conditioning Mash helps her to keep her condition throughout the winter months. I have two other horses who are also fed on conditioning mash. One is 26 and the other is 24. They all love it and it's so easy to feed."
Equerry Conditioning Mash is a quick-soaking mash for horses that need to gain weight and condition.
It is a 'Non-Heating' formula with low levels of starch and has a good level of protein for muscle development and topline.
Highly-digestible fibre sources include sugar beet; while oil and linseed promote condition and a shiny coat.
A high level of yeast promotes a healthy digestive system, with added vitamins and minerals including magnesium.