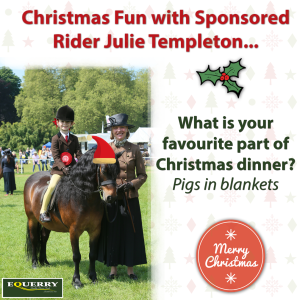 When do you hang your Christmas decorations?
December 1.
When do you do your Christmas shopping?
Fiona does most and normally starts in the summer but I do mine on Christmas Eve.
Do you do anything on Christmas Eve or have any family traditions?
Just sit down to a big meal and play games afterwards, although this normally gets way too competitive.
What is your favourite part of Christmas dinner?
Pigs in blankets.
Do you have any Christmas traditions?
We each take it in turn to open one present, that's probably why it takes us all day!
Is there anything you have asked for this Christmas?
Rotisserie attachment for my BBQ.
How do you spend Christmas Day?
Do the yard really early then come in and cook a big breakfast with champagne for everyone. Start opening presents then family get nibbles ready for lunch while we skip out. We spend the afternoon opening presents and then finish off the yard before coming in to start cooking Christmas dinner. After dinner we normally just chill out in front of the television and the fire.
Do you spend Christmas Day with family, how many people sit round the table?
Yes, there are normally about 10 of us.
Do your pets get Christmas presents?
Yes, probably more than me.
How will you spend New Year's Eve?
At home with the dogs, we give the staff Christmas and New Year off, so it means we are on yard duties.
What is your New Year's Resolution?
Live every day to the full.
Quick Fire Questions
Real or Fake Christmas tree? Real.
Christmas Pudding or another dessert? Christmas pudding.
Favourite Christmas Carol? Good King Wenceslas.
Tinsel or no tinsel? Tinsel.
What part did you play in the school nativity? A wise man.
If you could kiss anyone under the mistletoe, who would it be? Anyone who offered to do my share of the mucking out.
Favourite Christmas film? Scrooge.
Are you on the naughty or the nice list? Both.
Turkey, goose or vegetarian option? Turkey.