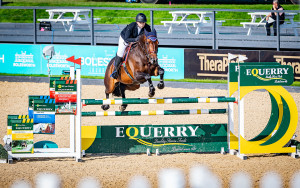 SIXTEEN-year-old Annabel Lomas was the delighted winner of a fast-paced Equerry Horse Feeds CSIAm Bronze final at a sun-kissed Bolesworth Young Horse Championships.
With 15 through to the jump-off, Buxton-based Annabel had her work cut out, but riding the 10-year-old mare, Vraiecocotte Berence, she kicked on to the last, clear in 33.40 seconds.
Said Annabel: "This is my first win at Bolesworth in the International Arena and she went fantastically.
"I have just finished at school so it really is a fantastic summer for me. We bought her from Carl Edwards and I am now competing at 1.20m to 1.30m level.
"She is a very reliable mare and consistent and I am hoping we slowly progress up the levels as she gives me so much confidence."
Taking second and third place was Vicky Burns with Hippy and Denzel II.
The Litchfield-based rider set a blistering pace in the class from second draw when coming home in 33.59 seconds on her first ride, the bay gelding, Denzel II, but it was the grey, Hippy, that took a more direct line in 33.51 seconds.
Said Vicky: "Hippy is fantastic in a jump off as he is always looking for the next fence which is a huge help.
"Denzel has just come back after a year off with injury from trying to jump out of the field so I am delighted with both of them."