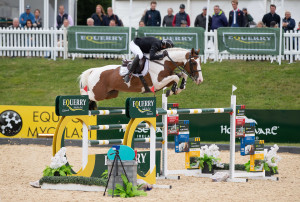 Belgium's Rik Hemeryk claimed one of his biggest career victories after winning the Equerry Horse Feeds Bolesworth International Grand Prix.
In doing so, he saw off a concerted challenge from nine other combinations that reached the jump-off in pursuit of a £29,500 top prize.
Riding 11-year-old stallion Ulyss Morinda, Rik's jump-off time of 38.33 seconds proved 30 hundredths quicker than American world star Laura Kraut.
Laura, aboard new ride Vvaramog de Breve, produced the form that helped her guide the United States to World Equestrian Games showjumping team gold in North Carolina last September.
And there was also an outstanding performance from Ellen Whitaker and Arena UK Winston, who finished as leading British rider in third place.
Ireland's David Simpson took fourth aboard Jenson 55, with Britain's Alison Barton in fifth on Roma IV, just in front of Amanda Derbyshire and Luibanta BH.
The grand prix, which carries a £90,000 total prize fund, did not disappoint as 39 starters tackled the challenge posed by course designer Kelvin Bywater.
But it was Rik who came up trumps after last-to-go Laura finished just short in her attempt to knock him off the top of the leaderboard.
"I saw the jump-off course, and there were a lot of verticals, and I thought it would suit my horse,"  Rik said.
"I went with a lot of canter between the fences and managed to put some pressure on the others.
"I have had the horse since he was seven, and he is really careful. I took my time developing him, and he did a couple of bigger shows last year before having a whole winter's rest. This would be his biggest win.
"I have really enjoyed the Bolesworth experience. It is so nice here, and I hope I can come back next year."
For Laura, it was a case of so near, yet so far, but she was thrilled with the display of a 10-year-old mare that excelled amid the pressure of a four-star grand prix.
"I am thrilled. This was my first grand prix with her, and we went pretty close," Laura said.
And for Ellen, who helped Great Britain to a team bronze medal at the European Championships 12 years ago alongside her uncles John and Michael Whitaker, it was an outstanding result.
"I am absolutely delighted. We got him  as a four-year-old, and it has been an interesting road to this point," Ellen said.
"It has taken me a little while to get the hang of managing such a big horse, and he was great today. It is really exciting for the future."