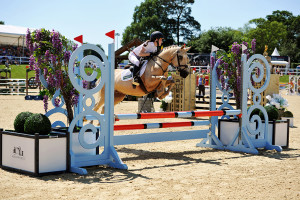 Young Scarlett Cox-Lomas has the drive and ambition to be a future star.  Here we catch up with the Equerry Horse Feeds sponsored rider to find out more about her determination to succeed.
Without doubt, producing ponies is Scarlett Cox-Lomas' first love!
To say she lives and breathes riding is an understatement and the more hours spent in the saddle the better for the 12-year-old from Cheshire.
With six ponies to ride and produce Scarlett's down time out of school is fast and furious and she is probably most well-known for riding the palomino mare, Lillibet.
Now 10, the 128cm pony arrived as a poor and untouched three-year-old and the partnership has developed together, hitting winning form this season.
At The Equerry Bolesworth International Horse Show in June, Scarlett and Lillibet took second in the Mini Major Relay while just six weeks later they went on to win the same class at CarFest North, also held at Bolesworth Castle.
Scarlett takes up the story:
"When Lillibet arrived she struggled with her weight and had so much growing and maturing to do.
She is half Arab, half New Forest and was very slow to learn so it did mean I had to be patient and understand that producing and training ponies takes time and can't be rushed.
When she arrived the biggest thing we noticed was that she really lacked personality and didn't really seem to enjoy life a great deal.
Lillibet was actually quite ugly and not very flexible but my mum Emma set to working on her and after months of patience and time she started to improve and turn the corner.
As her confidence grew so did her love of life and in the last few years she has just been a star and we now have a fantastic bond whether training, competing or just spending time together.
Winning at CarFest North was just fantastic and we now compete in 133cm Working Hunter Pony classes as well as show jumping, eventing and dressage.
Our dressage has really taken shape and I am busy working towards competing at affiliated level.
Thanks to her Equerry feed regime of Conditioning Mash and High Fibre Cubes, Lillibet is now a picture of health and we get so many great comments about how well she looks and how happy she is."
Scarlett's latest ride is the 138cm show jumping pony, Spider's Dance, owned by Amanda and Amy Cornforth.
A former HOYS contender, the Irish cob had started to stop when show jumping, following an incident which dented his confidence.
But thanks first to Amy, improving their bond and relationship and more recently to Scarlett taking her time to get to know and understand the 19-year-old, bay gelding their partnership is going from strength to strength.
Said Scarlett: "We have been out competing eight times and he is just the best and is a great character and addition to the team who will give me great experience at a higher level."
When not out competing Scarlett enjoys her role as an Equerry Horse Feeds ambassador and also schools and produces other ponies to assist with the costs of competing on the pony circuit.
"I wouldn't want to do anything else, riding is my life and I feel very lucky to have brilliant support from my family and sponsors," she added.