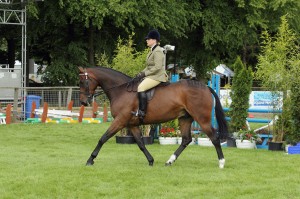 Ayrshire based Jennifer Garland has been enjoying great success with her stunning Riding Horse, Jemoon Tambourine Man who looks a picture of health.
Jennifer bought the eight-year-old by Jemoon Celtic Warrior in March 2013 and attributes much of his accomplishments to his Equerry feed which keeps him looking in tip top condition.
'Norman,' as he is known at home has been Supreme Champion in five out of seven recent competitions and took the Reserve Championship spot in the other two classes, to mark their considerable achievements.
The pair recently gained their ticket to the Royal International Horse Show, for a second consecutive year, at Puddledub Spring Show much to Jennifer's delight.
"When I started to add Equerry Condition Cooler Mash to his feed I quickly saw a massive difference in his general bloom and condition. It has produced fantastic results and as a bonus Norman really enjoys his feed, goes really well and looks great.
"The Equerry Condition Cooler Mash has been an excellent addition to his feed since the beginning of the year. It's amazing, he had a full summer coat by the middle of February and I ended up cutting down his ration by March," she added.
With Norman in superb condition and feeling brilliant too, the rest of the season looks bright for the combination.
He is due to compete in two Horse of the Year Show qualifiers shortly and will also compete at the Royal Highland Show, The Scottish Horse Show and the Riding Horse section at the RIHS.
Jennifer is full of praise for the feed and often gets compliments about Norman's condition and enquiries as to what she feeds him.
Said Jennifer: "The Equerry range is great quality, my horse looks fantastic, has a great top line, shiny coat and my feed bills have dropped. I wouldn't feed Norman anything else!"