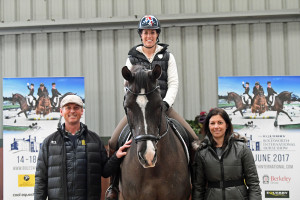 THE 2017 Equerry Bolesworth International Horse Show looks set to stamp its mark on the world of dressage as well as show jumping from June 14 to 18.
Show president Nina Barbour revealed the exciting plans to media and dressage royalty at the official launch of the new Bolesworth CDI*** at Carl Hester's yard in Gloucestershire.
The dressage legend, famed for his skills as both a rider and trainer is supporting the launch of this exciting new development for the event, which has quickly risen to become a power house in British show jumping circles and aims to do the same in the world of dressage.
Having won the Invitational Grand Prix Freestyle last year during his first visit to Bolesworth, Carl said: "Bolesworth is a true international show. I really love it.
"The venue is stunning, the footing is stunning, and I'm delighted the team is developing the dressage in such an amazing setting.
"The crowds and atmosphere were fantastic last year, so all credit to Nina Barbour for introducing two days of dressage to add to the programme."
Said Show President Nina Barbour: "We have big ambitions for Dressage at Bolesworth going forwards, and we're thrilled to have Carl help launch our new CDI*** competition.
"Our aim is for the event to be a huge hit with both competitors and visitors – there will truly be something for everyone at The Equerry Bolesworth International Horse Show this year!"
The dressage expansion plans mean that the event is now a fully-fledged CDI*** show with international riders able to compete in what has quickly become one of the most sought after arena's to ride in.
Carl is confirmed to compete in the CDI***, and is set to wow spectators on the first afternoon of the show with a demonstration of his wealth of knowledge as both an internationally-acclaimed rider and trainer.
Following the demonstration there will also be a 'Question&Answer' session with Carl in the International Arena with the stunning backdrop of Bolesworth Castle.
Dressage fans can enjoy watching top horses and riders over the first two days of the show, with the competition focus getting underway on Wednesday, June 14 with the CDI*** Grand Prix at 2pm and the Inter 1 Freestyle at 6pm.
Thursday, June 15 promises a full day of thrilling competitions, with the Prix St George invitational event, the 5, 6 & 7-year-old Future Dressage Horse Competitions, which will be viewing trials for the World Breeding Championships, the Grand Prix Special – and then culminating in the early evening Freestyle Final.
On the new young horse classes British Dressage Training Director Paul Hayler said: "We're delighted to be able to showcase our young horses this year as part of the increased dressage offering at The Equerry Bolesworth International Horse Show and can't thank Nina enough for making it happen.
"To compete in the fantastic arena against the backdrop of the castle will be an experience the youngsters will relish.   It will be a perfect opportunity to put them through their paces in a bid to potentially select those who'll travel to the World Championships in Ermelo this August.  Who knows, perhaps our next Valegro will be among them!"
Added Nina: "We really feel that it is important to harness the amazing legacy from the last two Olympics which has really set the Sport of Dressage alight and truly inspired us as a nation, and we can promise a stellar line up of riders in June."
Get 40% off gate prices if you pre-book your tickets online. General admission tickets are available at a pre-sale price of just £12 for the Thursday and Friday, and £20 for Wednesday, Saturday and Sunday. Under-12s can enjoy free admission, while a season ticket is at a not-to-be-missed pre-sale price of £40. Tickets can be bought online at www.bolesworthinternational.com