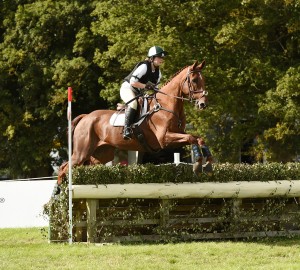 After suffering a broken back at the age of five in a trailer incident, the 17hh chestnut gelding, Sergeant Squirrel has never had much of an appetite until he was introduced to Equerry Conditioning Mash.
Now 24-years-old the Hanoverian x TB, owned by young event rider Lauren Marsh (20), is looking in great shape and still going strong with their first 1* BE event under their belt.
Said Lauren: "Squirrel has taken me from Pony Club Novice eventing to my first 1* BE, getting a seventh place, in just one year. We have also been to Blenheim twice where we were placed fourth and fifth with a second for style. He is quite an amazing gentleman.
"When he was a youngster he suffered an awful injury and since has never had much of an appetite despite making a fantastic recovery.
"I started feeding him Equerry Conditioning Mash just before we went to Blenheim last year to try and keep weight on him and provide him with enough energy for the busy season.
"Since feeding Equerry his feet and coat are noticeably better and what's more amazing is that he now has an appetite."
Lauren and Squirrel have had a very successful partnership so far also qualifying for the Pony Club Championships in the open showjumping and finishing in the top five in the open area eventing with double clears all round.
Added Lauren: "He really is a star and has also competed at Burghley in the Pony Club showjumping three times and we were placed every time, he was one of only three double clears in 2013.
"We have gone from high 30 scores in dressage to mid-twenty scores, and from batting out poles in the showjumping to clear rounds."
Lauren is hoping to start the season with a run at Burnham to see if he is still up to the competition, and will then go on to compete at BE100 unless he feels up to novice. This would make him one of the oldest horses competing at that level in British Eventing.