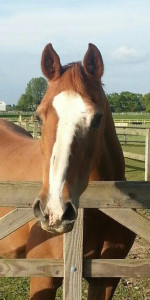 After 26 years together Karen Vaughan and her pony Flair have a fantastic bond with each other.
Now 28-years-old Flair is still ridden out twice a week and is jumped now and again as she enjoys it so much.
Karen works at HJ Lea Oakes in Cheshire and was bought Flair for her 21st birthday present.
A big part of Karen's life, Flair is a Welsh cross Arab and is fortunate to have always enjoyed good health.
Flair has always been fed products from the Equerry range and in the summer had Cool Cubes and Mix, moving on to Veteran Mix and Conditioning Cubes in the winter.
Says Karen: "Flair is fantastic for her age and the vets always say how well she looks.
"She is semi-retired but still enjoys being ridden and I am so lucky she is in great spirits and still enjoying life so much."