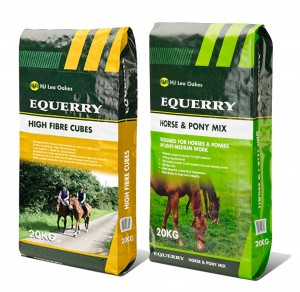 Do you enjoy light schooling, pleasure rides, hacking out, and maybe some local competing and are looking for the ideal feed for your horse?
For those in light to medium work, forage alone will not be sufficient to meet all of your horses' nutritional demands. So if you need a low calorie option for a good doer or a palatable 'Non-Heating' mix for a picky horse, there will be a product to suit your horse in the Equerry horse feed range.
For horses at rest or in light work Equerry High Fibre Cubes are high in fibre, are cereal-grain-free and low in starch and sugar. The energy level is similar to hay at 8.5 MJ/kg making them ideal for horses needing a 'Non-Heating' feed or for good-doers that need a low calorie intake. Feeding Equerry High Fibre Cubes will provide your horse with vitamins and minerals including magnesium.
Equerry Cool Cubes or Cool Mix are a great choice for those in light work as they are low energy and high in fibre making them suitable for fizzy horses whilst ensuring their vitamin and mineral requirements are met.
For horses doing more work and competitions the Equerry Horse & Pony Cubes and Horse & Pony Mix provide a higher energy level to support the work and include good quality protein to support muscle tone and development. The addition of oil will promote a shiny coat and the high fibre formula together with added vitamins and minerals creates a balanced diet which will help keep your horse performing at its best.
If you are currently feeding Equerry why not enter your horse to be our horse of the month on our Facebook page?