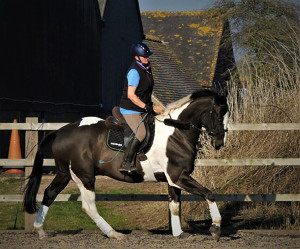 Bought as a gangly two-year-old magnificent Harley, owned by Jane Titley-Perrin has gone from strength to strength and she is now enjoying the fruits of her hard work.
Standing 16.3hh the coloured, Warmblood x Thoroughbred is now four and Jane is busy educating and producing him.
Based in Market Drayton, Jane has worked with horses all her life but apart from a 'problem horse' she took on to help, Harley is really the first horse she has owned from a youngster and for herself.
Said Jane: "After years of working at a dealing yard as head girl, before going freelance with clipping and grooming jobs I decided it was about time I bought a horse of my own.
"I broke Harley in as a three-year-old and he's been on fun rides and on hound exercise with our local pack.
"He has been fed on Equerry Conditioning Mash since I got him as a two-year-old and now he's in work he is having Equerry Cool Mash.  Both have been fantastic in keeping him looking in fabulous condition and calm and focused as a youngster.
"Harley is such a star and I feel very lucky to have him to bring on and spend time with.  He has competed at a couple of dressage competitions scoring 60%+ with lots of positive comments and I was aiming to do some jumping clinics this year, so fingers crossed we will be able to get out soon.
"There's nothing he likes more than to go out for hacks enjoying everything he sees. I'm hoping to do a bit of everything with him and I'm excited for our future together."
Added Jane: "Harley still has a lot of maturing to do but he looks great for a big horse and I am really looking forward educating him further.
"The Equerry Cool Mash keeps him level-headed and he looks in superb condition, I couldn't ask for more."