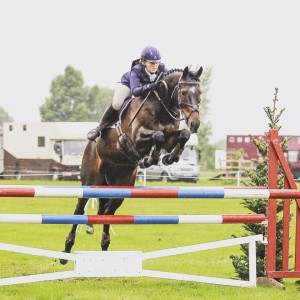 Our sponsored rider Amber Major tells us about her recent selection for the Nottingham Trent University Rider Development Squad.
Says Amber: "The squad receive free training from some of the best Midlands-area trainers including Sam York (BE U18 trainer and BE accredited coach, BHSI, Senior Lecturer ), Kirsty Hardstaff, Liz Taylor and Andrew Fletcher (4* eventing dressage judge). We've also just been lucky enough to have a lesson with Irish Olympic event rider Jonty Evans.
"It all goes to support riders that can use the extra coaching and expertise to further their ridden education alongside their Equine course at Nottingham Trent University. The group of five are a fantastic team and we all get along very well with the horses abilities complimenting each other.
"Personally what I get out of the Rider academy sessions is being able to take away information from both a rider and coaching point of view and the sessions are educational for both of my event horses.
"The consistency of the training helps me keep on top of my riding and provides constructive exercises to take away and work on by myself so that I make sure every time I ride I'm achieving small goals.
"I plan to complete my coaching certificates through the Pony Club before taking my A test after passing my AH with distinction in September 2016. I'd then like to progress to take my BHSAI exam to enable me to teach.
"With my horses the academy is improving both my ability and my horses simultaneously and in 2017 I hope to aim to qualify for the Pony Club Championships again, take my younger horse to the Retrained Racehorse eventing championships at BE100 level and move my more experienced horse up to Advanced level.
"The groundwork and education through winter and added advice from experienced trainers will hopefully set me up well for my next season and I'm grateful to the staff at NTU for all their hard work in enabling this scheme to run and for selecting me."