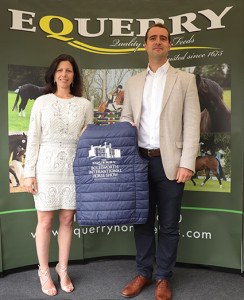 THE teams at Bolesworth International Horse Show and Equerry Horse Feeds are delighted to announce continuing their major title sponsorship agreement for 2019 and 2020.
Having supported Cheshire's premier, world-class equestrian event for the last three year's Equerry Horse Feeds continued sponsorship over the next two years will see further investment to what has been hailed the 'Carslberg' of horse shows.
Without doubt the 2018 event was the 'best ever' with fantastic show jumping, dressage, family and evening entertainment on offer over the five days, attracting the biggest crowds since 2014 when the show moved up to CSI4* level.
Said Show President and Founder, Nina Barbour: "We are absolutely thrilled that our brilliant partnership with Equerry Horse Feeds is to continue.
"Without doubt running a big event such as Bolesworth International is a major undertaking and we are very grateful to their continued support as well as all their help promoting the show and helping it to grow, develop and improve each year."
Added Edward Lea of Equerry Horse Feeds: "This year's show was the best ever with the organising team not only putting on a great event but also doing everything they could to promote the Equerry brand.
"From extensive signage to commentary promotion and media awareness, we would like to think not only did all visitors to the show have visibility of the brand and horse feed range, but also those following through social media and the excellent livestream coverage also saw and will remember the name."
After competing at this year's show, as well as hosting an exclusive masterclass with the Van Olst Horses team, Carl Hester said: "It is an amazing show, we're so well looked after, the surfaces are the best and we get the top judges to ride in front of; it's about time the Europeans travelled over to support us!"
Added Equerry Grand Prix winner, Paul Kennedy: "The show is an absolute credit to Nina and the whole team.
"They haven't had it easy over the last few years, but they keep going, they get better every year, and for us riders to come to a place like this on home soil in front of a home crowd is amazing."