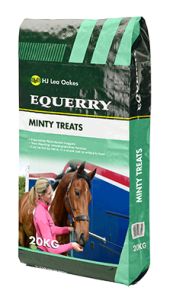 Equerry Minty Treats make the perfect reward for your horse or pony and have a lovely spearmint flavour.
And these delicious healthy treats now come in a new 20kg size – ideal for larger yards or sharing!
A healthy treat option, Minty Treats are fibre-based nuggets, low in sugar and are 'Non-Heating' and cereal-grain-free so they won't cause any problems or 'fizz'.
They can be fed by hand, in a treat ball or added to feed to tempt fussy feeders.
Equerry Minty Treats are great for when your horse deserves a little reward.
Along with the launch of the new 20kg size Equerry is also running a special promotion throughout February and March.
Buy four bags of any Equerry product at your local store and get one bag of Equerry Minty Treats absolutely free.
The Equerry horse feed range includes Equerry High Fibre Cubes, Equerry Cool Mix, Equerry Horse & Pony Mix, Equerry Horse & Pony Cubes, Equerry Conditioning Mash, Equerry Conditioning Cubes and Equerry Veteran Mix.
Equerry Minty Treats 20kg are £11.50.
To find out more about the Equerry range of horse feeds visit www.equerryhorsefeeds.com or telephone 01845 565640.