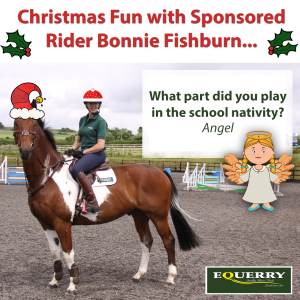 When do you hang your Christmas decorations?  About a week before Christmas.
When do you do your Christmas shopping? I pick things up all year as I see them and then have a mad panic a week or so before when I still need to find something for someone.
Do you do anything on Christmas Eve or have any family traditions? I try and meet up with friends for a few drinks.
What is your favourite part of Christmas dinner? I love food so all of it! But I particularly like sprouts with chestnuts, bread sauce and pigs in blankets.
Do you have any Christmas traditions? Eggs Royale for breakfast.
Is there anything you have asked for this Christmas? An indoor arena, horse walker and a gallop. If I got any of these I would be delighted but failing that a soup recipe book and a nice casual coat.
What is your horsey routine on Christmas Day? I get up early and ride a few before heading back to the house for a yummy breakfast and to open presents. Then we head to a lunch with family. Back to do the horses in the evening and then chill out in front of the television.
How do you spend Christmas day? With my mum and her husband's family. They take it in turns to host the day.
Do you spend Christmas Day with family, how many people sit round the table? Yes, there are usually around 15 to 20 of us.
Do you treat yourself to a Christmas jumper, if yes then what design is on your jumper this year? I got one last year for the first time and it had an elf on it.
Do you go for a Christmas hack? Not really.
What do you do on Boxing Day? Go to the local hunt meet.
 Do your pets get Christmas presents? Of course, and they love opening them.
How will you spend New Year's Eve? We are hosting a Murder Mystery dinner party this year.
What is your New Year's Resolution? To get back eventing having missed half of last season having had baby Harriet.
Quick Fire Questions
Real or Fake Christmas tree? Real.
Christmas Pudding or another dessert? Another dessert.
Favourite Christmas Carol? Good King Wenceslas.
Colour co-ordinated baubles or not? Colour co-ordinated.
Tinsel or no tinsel? No tinsel.
What part did you play in the school nativity? An Angel.
If you could kiss anyone under the mistletoe, who would it be? My husband of course but if he's not available Elvis (Luke Pasqualino) out of Our Girl would do or Scott Eastwood.
Favourite Christmas film? Let It Snow or Love Actually, it's a tough one!
Are you on the naughty or the nice list? NICE!
Turkey, goose or vegetarian option? Turkey.