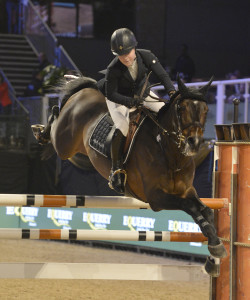 THIS year's Liverpool International Horse Show will see the country's leading young riders competing in the prestigious Equerry Horse Feeds Under 25 Championship.
The action gets underway as part of the Friday Evening Performance, December 29 when competitors will tackle a course up to 1.45m.
Last year's winner Millie Allen set the class alight when winning what proved to be one of the show highlights.
Liverpool International Horse Show President, Nina Barbour, said: "We are looking forward to a fantastic first night Evening Performance with the Equerry Horse Feeds Under 25 Championship.
"This will be followed by the Arenacross Freestyle Motocross Crew, our fabulous and first time seen in the UK fire, pyrotechnic and trick riding display Luminoso, the ever-popular Shetland Pony Grand National, new Dressage to Music Inter 1 Freestyle and to round off the evening Rick Parfitt Junior and the RPJ Band."
The Equerry range of top-quality horse feeds contains something for every horse or pony, whether feeding a leisure horse or a competition horse, there is a product to meet their nutritional requirements.
The range provides everything from High Fibre Cubes for horses and ponies at rest or in very light work to more conditioning options including Conditioning Cubes and Mix, a low starch 'Non-Heating' Conditioning Mash and a very palatable Veteran Mix.
Liverpool International Horse Show takes place from December 29 to 31, at The Echo Arena on Liverpool's iconic waterfront.
For further information visit www.liverpoolhorseshow.com