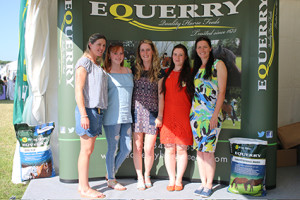 After reading hundreds of super entries we are delighted to announce the lucky winner of the search for a new sponsored rider is dressage rider Georgie Bennett.
Georgie runs a small dressage and livery yard in Lincolnshire and is also a freelance rider and trainer.
She has evented at advanced level and also competes in advanced level dressage.
Working with many different horses, Georgie recognises the importance of using a feed which gives them the condition they need, but also in her words "keeps their brain on her side."
Georgie soon realised that once she began feeding horses on the Equerry range, their coats very quickly took on an amazing shine that simply got better and better, whether at home training or out competing.
Said Georgie: "Running a yard can be very expensive, competing makes it even more so, any help towards lowering costs is always hugely appreciated and it is fantastic to win the sponsorship support from Equerry."
Added Katy Mickle of Equerry Horse Feeds: "We are delighted to welcome Georgie as our new sponsored rider and are very much looking forward to working with her."
As the successful winner, Georgie was lucky enough to experience fantastic VIP hospitality at the Equerry sponsored Bolesworth International Horse Show for the exciting Equerry Grand Prix, together with winning a year's supply of Equerry Horse Feed, an Equerry jacket, polo shirt and saddlecloth.
The Equerry sponsored rider team enjoyed a fantastic day out at Bolesworth International.
Pictured left to right are: Bonnie Fishburn, Alanna Clarke, Georgie Bennett, Amber Major and Nikee Hudson.