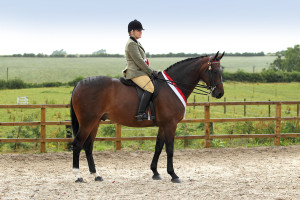 Jennifer Garland and her Large Riding Horse, Jemoon Tambourine Man have been in great form this season recently claiming the Riding Horse Championship at Muirmill near Kilmarnock.
The nine-year-old bay gelding was bought from the Jemoon Stud five years ago and Jennifer and Norman, as he is known at home have formed a formidable partnership ever since.
Said Jennifer: "Norman is on great form and looks fantastic.  We have had lots of success together and he has qualified for the Royal International Horse Show every year.
"This season we have also started to compete in Working Show Horse classes which he is really enjoying and his jumping is developing all the time.
"He looks absolutely amazing and people always ask me what I feed as his coat is so shiny and he has great top line and condition.
"The Equerry Conditioning Mash he is on makes a massive difference and he absolutely loves it.  He really looks well on the feed and I really don't think he would be happy if I fed him anything else.
"Norman is so easy to produce and at shows is always well behaved I couldn't ask for more."
Working fulltime means Jennifer now rides as a hobby having previously ridden professionally.
"I really enjoy competing Norman and we have built a great partnership and am looking forward to seeing how we do in the Working Show Horse classes as we progress," added Jennifer.