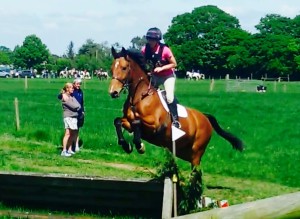 From competition horses to youngsters just starting their ridden career, Equerry Conditioning Mash is a favourite for rider and producer Rachael Edgington.
Working at the Roxlan Stud, owned by Rosemary Rainford, Rachael backs and produces their young competition horses.
Said Rachel: "I have two competition horses in work at the moment and they are both sensitive horses who can be highly strung. They both hunt over the winter months and as you know horses can drop quite a bit of weight.
"I found it hard to find a feed that would improve their condition without making them 'fizzy' until I started feeding Equerry Conditioning Mash. Since then I have never looked back.
"My mare, Cassini Royale, held her weight over the winter throughout the hunting season and has kept her condition and topline.
"My other horse, owned by Rosemary is looking to step up to Novice level eventing this season and after a winter of hunting, he too looks in great condition. He was known for looking quite lean but everyone has been commenting on his good condition."
Rachael and her mare, Cassini Royale, have been on good form recently and have qualified for the National Hunter Trial Series at Eland Lodge after winning an open qualifier.
Rachael added: "We also feed Equerry Conditioning Mash to the youngsters at the stud. Having been turned away at grass for the first three years of their life the youngsters often look lean with little muscle and topline and as they are slowly backed and brought into work they can often lose weight.
"Once the youngsters come to me to be backed they are put on Equerry Conditioning Mash to help build their condition and promote topline. As their education progresses and their work level is upped we can increase the amount of feed they get with no effect on their temperament. It really is a great conditioning feed."
Rachael is now looking forward to the rest of the season with her horses and between backing and training the youngsters at Roxlan Stud she is busy working towards her BE Coaching to become a freelance coach.