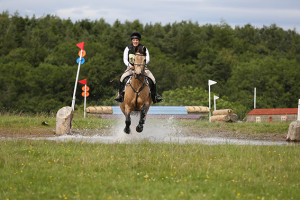 Rebecca Jago and her dun Appaloosa X Warmblood mare 'Rowesbrook Indiana' are a match made in heaven competing in everything from Riding Club competitions to showing, dressage to music and British Eventing.
Fed on Equerry Conditioning Mash, Indie as she is known at home looks a picture of health all year round and has been fed on Equerry for more than 12 months.
Indie is a 10-year-old, 15.1hh homebred mare out of another of Rebecca's homebred mare's Sunspot Tia Maria. Rebecca has always had a passion for horses since a young age and alongside her interest in breeding horses she trained as a riding instructor.
However, Rebecca went off to University to become a teacher and now juggles being a full-time classroom teacher with taking part in as many competitions as she can fit in.
Rebecca competes in all disciplines from Riding Club Championships to The Royal International Horse Show and British Eventing, with Equerry Conditioning Mash keeping Indie performing at and looking her best.
As a duo their most memorable accomplishment was competing and qualifying in the Dressage to Music held at Bury Farm in 2016, they rode alongside another dun horse with a routine entirely to Disney Music which both Rebecca and Indie thoroughly enjoyed.
Said Rebecca: "Indie is so willing and tries her hardest at everything, she is just a superstar and we have so much fun together."
Before feeding Equerry Conditioning Mash, Indie was fed straights such as barley and has since seen a huge difference. The Equerry Conditioning Mash enables Indie to stay in excellent condition whilst having enough fuel to keep her competing.
Said Rebecca: "I swear by Equerry Conditioning Mash! It has helped Indie not only look great but perform her best throughout demanding times.
"I am an absolute convert and Indie loves it, she is in great condition all year round."
The Equerry Conditioning Mash is a quick-soaking mash for horses that need to gain weight and condition. It is low in sugar and starch and is 'Non-Heating' and includes highly digestible fibre sources including sugar beet. It has a good level of protein for muscle development and topline and the high oil level and linseed in the feed helps promote condition and a shiny coat. The mash also includes a high level of yeast for a healthy digestive system and has added vitamins and minerals including magnesium.