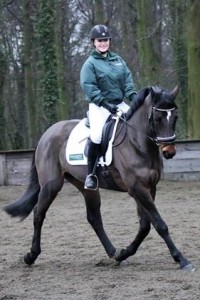 After a brilliant 2016 Alanna Clarke and her lovely horse Katrina has joined the Equerry Horse Feeds team of sponsored riders.
Said Alanna: "Katrina and I had the most exciting 2016.  On the dressage front we scored our first British Dressage points, were reserve for the British Dressage – Northern Region BYRDS team, qualified for the PetPlan Area Festivals at Novice, got to the My Quest National finals at Elementary and had a go at Dressage to Music.
"We also tried Le Trec, got an award at the Trakehners UK annual show and gained our first showjumping clear rounds and rosettes which was brilliant.
"Thank you to every single person who has supported me this year, I am so lucky and I appreciate you all and especially my mum who is the best ever.
"We are looking forward to an amazing and exciting 2017 and are delighted to join the Equerry Horse Feeds team."