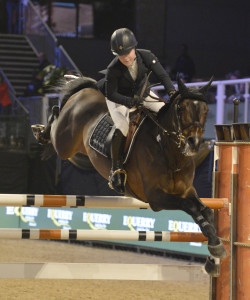 Millie Allen made up for an agonising defeat 12 months ago to be crowned Under-25 Grand Prix champion at the Equestrian.com Liverpool International Horse Show.
A year after being pipped at the post by her sister Pippa, who won a thrilling jump-off by just two hundredths of a second in the same ckass, Millie returned with Balou Star – and this time she was not to be denied.
Twelve combinations made it through to the jump-off, and a determined Millie powered home in a time of 32.65 seconds, more than a second clear of Richard Howley and Chinook III, while James Hughes and Bolton Gate Ben finished third.
Millie was able to reflect on collecting a £2,000 winner's purse in the class, sponsored by Equerry Horse Feeds, and she was understandably delighted with the victory.
"Last year, I was two hundredths of a second behind my sister. I still remember it pretty well!" said Millie, who is from the north-east of England.
"Like today, it was an amazing atmosphere, but I much prefer to be in the winning spot this time around!
"It was a very competitive class. To be honest, I think anyone on that start-list could have won.
"In terms of the jump-off, I think I had to take a lot of risks and be fast from the beginning, but my horse has so much scope and such a big heart.
"He has been an amazing horse for me, and the horse's owner was here to watch today, so it was perfect.
"This show is incredible. The crowd is amazing, and it makes you feel amazing when you are in that arena.
"It's a very busy year ahead for me. I have just moved to a new yard, and I am really looking forward to it."