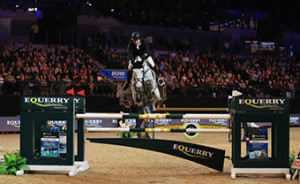 Jake Saywell showcased the best of young British showjumping talent when he claimed a thrilling victory in the Liverpool International Horse Show Under-25s Grand Prix.
The class, sponsored by Equerry Horse Feeds, saw a high-class entry assembled, including the likes of Jake, Robert Murphy, Jessica Mendoza – Great Britain reserve rider at the 2016 Rio Olympics – highly-rated Harry Charles and his sister Sienna.
Eleven combinations from 23 starters made the jump-off, and it was Harry Charles who set the pace from an early draw when he clocked 31.15 seconds with Victor.
That time looked like it might be quick enough, but Robert Murphy and Del Fuego had other ideas, with Robert punching the air in celebration after going more than a second quicker.
But the stage was then set for Jake and Havinia van de Roshoeve, and they did not disappoint, clipping 33 hundredths of a second off the leader's time to land a £2,000 top prize.
"The calibre of riders we have coming up in Great Britain is fantastic," Jake said. "It's a real credit to us as a country, and tonight it made for a very good class.
"The jump-off was fast. The first round wasn't an easy track, so 11 going through said everything about the standard.
"Harry looked fast. I know my mare very well – she is very careful – so I knew I could be there or thereabouts, and then I heard Rob's time, which was going some again.
"My horse is a class horse, a very careful jumper. The way she is jumping, and aong with some other horses I have, who knows for 2018.
"Liverpool is a fantastic show. To ride in an arena like that is really setting up the young riders for a big career. To come into the Echo Arena is great."