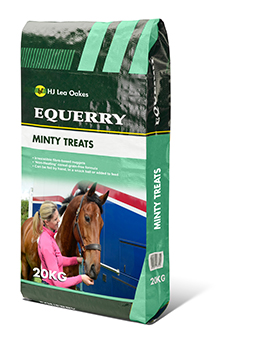 Win Equerry Minty Treats
Equerry Minty Treats make the perfect reward for your horse or pony and have a lovely spearmint flavour.
And in our latest competition six lucky winners will win a bag of our new 20kg size and a treat ball.
A healthy treat option, Minty Treats are fibre-based nuggets, low in sugar and are 'Non-Heating' and cereal-grain-free so they won't cause any problems or 'fizz'.
They can be fed by hand, in a treat ball or added to feed to tempt fussy feeders.
Equerry Minty Treats are great for when your horse deserves a little reward.
Question
What is the new size bag for Equerry Minty Treats?
Competition closes March 26, 2018.
Head over to our Facebook page for the latest competition...